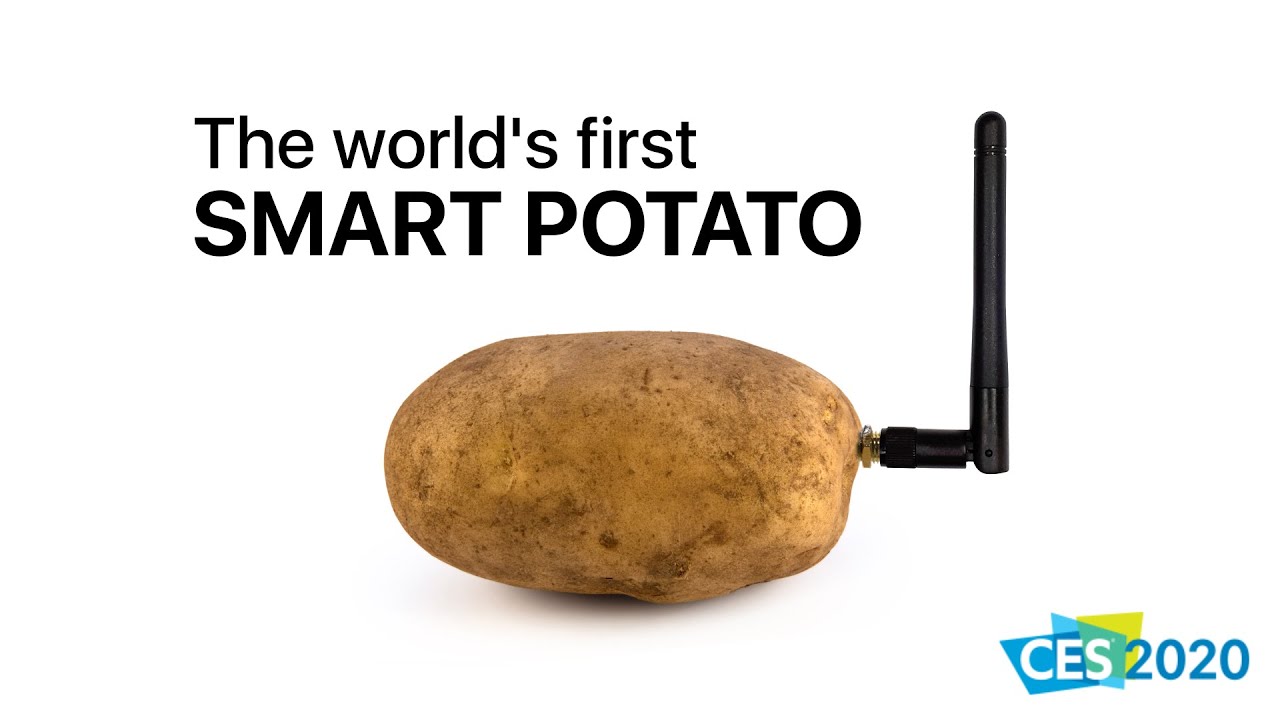 Blog /

Concerning SMART Potatoes… A First Look at the Las Vegas Consumer Electronics' Show
It's the time of year when the Consumer Electronics Show (CES) is held in Las Vegas (the 1st week in January.) We always attend in the hopes of picking up on new industry trends and technologies, not to mention the weather is a welcomed improvement, especially this January. This will be the first of three articles on the show – and I will start with a general overview, as well as some of the crazy ideas and gadgets we saw. Next week and the week after, I want to focus on the Smart City initiative that was one of the prime focal points of the show this year.
The 2020 show comprised about 4500 vendor booths and just under 150,000 attendees. There are representatives from every corner of the globe, showing an unimaginable array of products and services. It takes every available square foot of space in the Convention Centre and several hotels. It normally takes 3 to 4 (full) days to walk the show floor. The crowds are just short of insane.
While the global behemoths are well represented (LG, Sony, Samsung, and many others), a large part of the show is devoted to smaller vendors and start-ups; many of them in tiny 8 x 8 ft booths showing a single product or idea. Many of these vendors are not looking to market products but want to focus on finding investors for their idea. Thus, there are several Venture Capitalists wandering about with open cheque books.
When trying to spot industry and product trends, we rely on our past attendance. If one vendor is showcasing a new or innovative product, and then 10 vendors show a similar item, the following year you can bet it will end up in the marketplace sometime soon. Remember I told you about SMART underwear in 2019? This year there were several vendors proudly displaying this product: SMART shower, SMART bed, SMART mirror, SMART toilet, SMART sink… the list is endless.
The buzzword-of-choice at CES was AI – Artificial Intelligence. Everything SMART touted a form of AI. AI refers to software algorithms that enable some capability for self-learning. However, most AI focuses on very narrow functions, and moving outside of the limited design parameters means the product isn't very smart at all. LG were showing a kitchen robot pretending to wash dishes. The robotic arm would pick up a plate, swirl it in the sink, and then load it in a dishwasher conveyor system. However, after watching for a few minutes, you saw that if the plates were a different size, placed in a less-than neat pile, or contained left-overs, the robot was going to make a mess of the job. Don't expect it to deal with your average morning-after-the-party dishes.
Like past years, the show had many Solutions looking for Problems; devices that while innovative and in some cases unique, didn't appear to have a practical use. A prime example was Samsung's Rolling Robot, Ballie, a yellow SMART motorized item about as big as a large softball. Its function was to roll around the floor and play with your cat or dog. Ballie is smart enough to know where your pet is, if active or laying down, and provide a gentle nudge to Fluffy or Fido, if more exercise is needed. Ballie has other actions, but pet-work was what Samsung highlighted. It could interact with companion products: SMART pet feeders, SMART pet doorways, and more SMART pet toys.
I thought the idea of pet ownership was to look after your own pet; not staff it out to a pet-nanny.
Two more gadgets to share with you; one sublime and one ridiculous:
SunFlower were showing a SMART Security Drone. The system used 3 to 5 sensors placed around the perimeter of your property (they looked like the typical solar-powered yard lights.) Somewhere in the yard, you placed a large housing about the size of a stubby garbage can. If one of the sensors detected movement or extra heat nearby, it signaled the housing which launched a mid-sized drone. The drone – directed by the sensor – navigated to the affected area and hovered over it, while attempting to pick-up the movement (animal or person.) Once locked on, the drone would follow the moving object until it was out of range – all the while recording video of the incident. Your own Security Guard drone! Even though the initial system is designed for home use, it's not hard to see its commercial application. Of course, I had to ask if it could be weaponized. Not officially, was the answer.
The second contraption drew a lot of attention: the prototype SMART Potato. The vendor was from France and was displaying a large potato with a SMART probe in it. The probe reportedly accessed the power and natural Artificial Intelligence of the potato and transmitted the information to an APP on your phone. We saw this product at a small booth, but the crowds were such that we didn't stop to learn much more. He reportedly had many investors ready to move product development along.
It was a complete HOAX.
The vendor concocted this fantasy, rented a booth, went to the local grocery store, and bought a potato which he stuck a short antenna into. Towards the end of the show, he revealed the truth. His point was this: the proliferation of SMART products has reached stupefying heights and most of these gizmos have no practical use.
For the next two weeks I want to focus on the SMART City displays and discussions at CES. Big changes are coming to our municipalities in the next 3 to 5 years. And it turns out the biggest innovations have nothing to do with Technology.
Stay tuned, and in the meantime, I will enjoy my NOT-SO-SMART french-fried potatoes; they're still tasty.
Thanks!
Dave White
TRINUS
stress-free IT