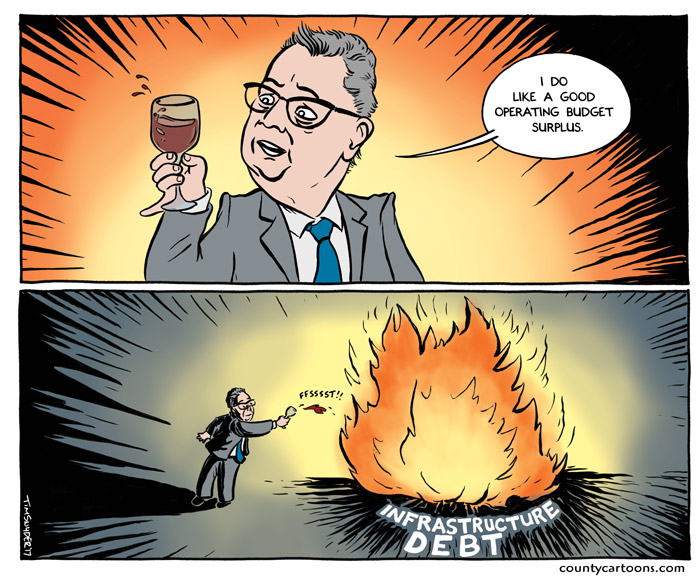 Blog /

Municipal IT Budget Planning – Part 10: Comprehensive IT Budget for a Municipality
This is part 10 of a 9-part series that has looked at selected areas of interest to Municipalities, pertaining to IT Budget Planning.  We have now added a Summary Article.  Please contact me if you would like copies for all or any of the previous nine installments. 
This is the final article in the series – and I am going to try and bring it all home together in one comprehensive Budget.  First of all, we need to make some assumptions:
All equipment will be purchased new by the Municipality.
Subscriptions will be used for common products: Office 365, Adobe, Anti-Virus, Firewall.
Full Management of all equipment and services will be outsourced.
Backups and Disaster Recovery will be hosted Offsite.
A Cyber Security Assessment and ongoing Countermeasures will be included.
Here is our Budget scenario *:
New System – or one that's 5 or MORE years-old and due to be replaced (Little Idea #2 **)
IT Systems comprised of:

1 x Physical HOST server with 4 Virtual (VM) servers

(Domain Controller, File Server, Exchange Email, & Applications)
Finance Application uses Microsoft SQL Server database

4 Network Devices (Firewall, Switch & 2 x Wi-Fi Access Points)
25 Workstations & Laptops

35 Users or User Accounts
2 Locations (Main Office and Public Works) within 2 KM's of each other and connected via wireless-bridge.
Budget Plan: 12 months
Capital Costs:
New Rack Server Hardware to host 5 VMs (4 x existing + 1 spare): $20,000
Server Licensing: $21,475
Firewall, Switch, WiFi Access Points: $4,000
15 Workstations: $18,000
10 Laptops (with accessories): $26,700
50 Monitors: $20,000
25 Power Bars: $1,875
Installation Services (all): $15,250
Initial Cyber Security Assessment: $5,000
Sub–total Capital Costs: $132,300
Operating Costs:
Subscriptions (Office 365, Adobe, Anti-Virus, Firewall): $16,465
Fixed Cost Management (All Servers, Devices, Cyber Security): $33,800
Offsite Backup and Disaster Recovery Services: $9,000
Sub–total Operating Costs: $59,265
Total Budget: $191,565 + 10% Contingency = $210,721 -> $215,000
This combines all of the elements that we had in the previous 9 articles  – making allowances for some changes in our assumptions, as we progressed through the series.  But let's take this a step further, and try to predict expenditures for 5 years.  We know that the equipment has an estimated life-cycle of 5 years (Little Idea #2**).  Thus, to predict budgets for 5 years, simply requires that we extend the operating costs to match.  Thus, our 5-year projected budget becomes:
Capital Costs: $132,300
Operating Costs ($59,265 x 5): $296,325
Total Budget: $428,625 + 10% contingency = $471,487 -> $475,000
There are some observations worth noting:
Moving to Subscription-based software and Support Services makes Budget Planning easy and predictable, as costs remain relatively fixed over the entire period.  It also means that Users have the most up-to-date version of the software, even at year-5.
Having a complete refresh of hardware – while initially expensive – improves User Satisfaction, as all Users are on the same vintage of hardware and performance is uniform.
The total cost of Ownership over the 5-year period, dwarfs the initial capital outlay.  This is hard for many Planners to understand when staring at a large capital expense number; they tend to reduce costs as much as possible on the equipment.  That leads to decreased User Satisfaction in years 4 and 5, as equipment specifications cannot provide adequate performance (the BIG Idea**); don't cheap-out!!
In the overall context, effective Cyber Security is a bargain ($80,000 over 5 years) (Little Idea #3**.)  It's estimated that the cost of one Cyber Security Attack is north of $150,000.
A final thought: An Industry trend that we've been seeing is converting all of the capital and monthly costs itemized above, into a single monthly payment.  Some in the Industry call this HAAS or Hardware as a Service.  At TRINUS, we use the term Managed Solution Provider – or our version of MSP.
In our scenario, it would amount to a single monthly payment of about $7,900 over 5 years – and takes all of the Planning, Logistics, Deployment, and Support of the entire IT system – and outsources it.  We currently have 6 Municipalities on this program, and it is proving very popular and cost-effective.
Please contact me or your Account Manager, if you would like some personalized help with some stress–free Municipal IT Budgeting.
Thanks!
Dave White 
TRINUS
stress–free IT
* – Full Disclosure: We're going to use Services and Prices for TRINUS-supplied Systems and Services.  Other Provider costs and equipment may vary.
** – Little Ideas – along with the BIG IDEA – were presented and defined in Part 1 of this series.