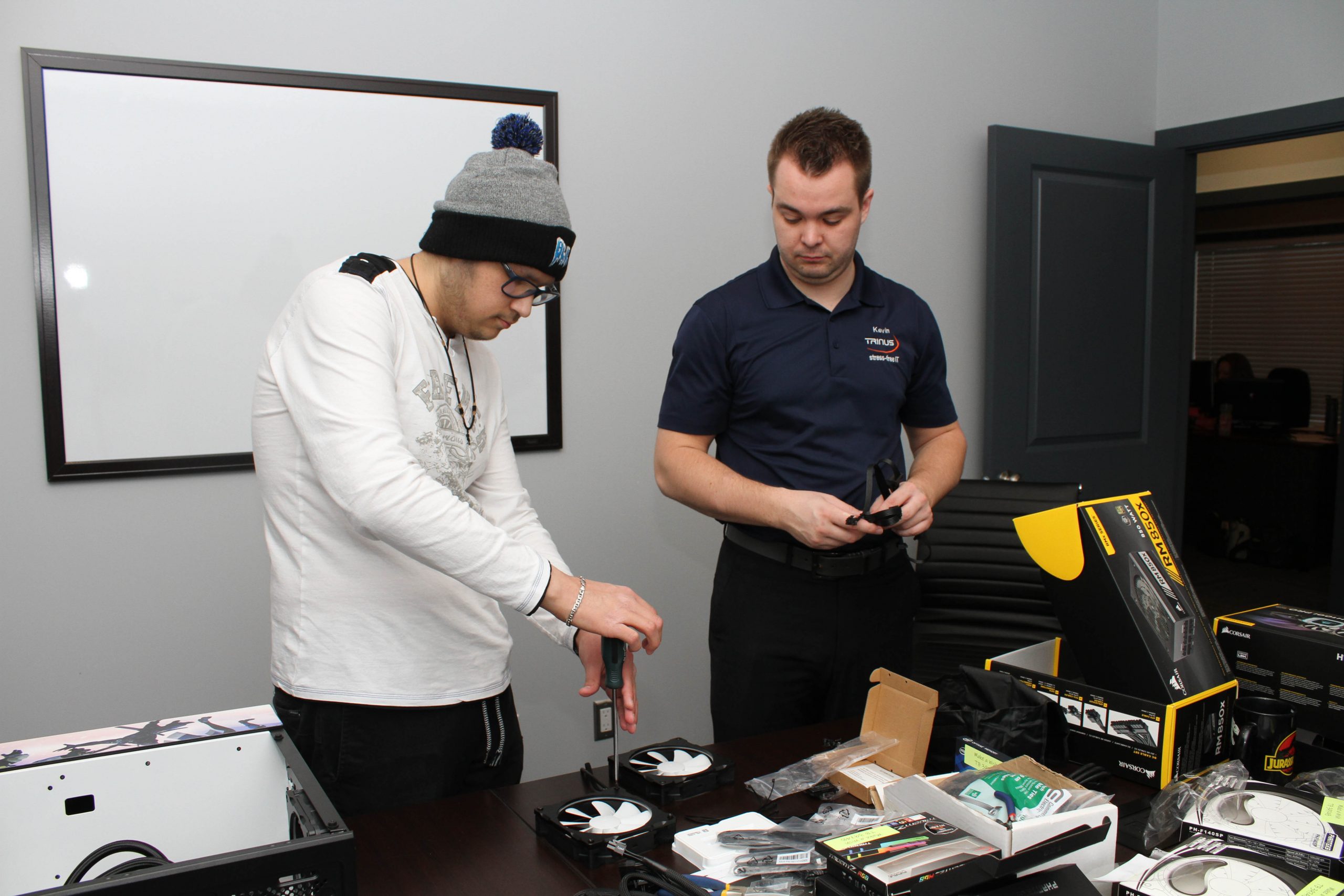 Blog /

TRINUS Loses a Friend: Make-A-Wish Recipient Loses Battle With Cancer
For those who have been following our BLOG articles for some time, you may recall an opportunity we had to fulfill a Dream Wish for a young man from the Peace River region of Northern Alberta – Logan.
Through the Make-A-Wish foundation, TRINUS was able to purchase, construct, configure, and deliver a custom-built kick-ass gaming computer last January. Logan, accompanied by his Mom Lisa, spent a day at TRINUS helping to build the computer alongside our Director of Operations, Kevin. Well, we couldn't help ourselves. With the help of Sheri Issler from NWT Promotions, Darrel & Cheryl Sneath from Fine Line Industries, renowned pencil artist Robert Bailey, and Devon Bortscher from SAVIAN (TRINUS website designer), we went over the top in a significant effort to make it a very special day for Logan. And it was. You can watch a short video of that unforgettable occasion, by clicking here.
Logan captured our hearts, and over the past 15 months with the help of Lisa, we have been following the progress of his battle with cancer. Unfortunately, Logan's fight came to an end on Friday, May 8, as he succumbed to the disease.
Maybe the reason Logan endeared himself to us was his quiet, unassuming, everyday demeanor; he was just a regular teenager – one of the guys who loved gaming and pizza. We still remember his eyes lighting up when he first turned on the gaming computer and saw his favourite game – Overwatch – come to life.
Many of us are no strangers to battles with serious illness, spending days, weeks, and even months, in the hospital or some treatment. Despite the best efforts of brilliant caregivers, it's not always a successful journey. I can't imagine the toll it takes on body and soul to spend months in treatment, only to be told that the odds are increasingly stacked against you, as chemotherapy, radiation and surgery efforts fail to eradicate the cancer.
Logan will be dearly missed at TRINUS, not because he was a gifted artist, brilliant scholar, or famous celebrity. He'll be missed because he was a genuine person, without pretense, and who allowed the staff at TRINUS to share in his life journey, even though it was too short. We can only hope and pray that he is resting in a place free of the pain and anxiety of battling cancer. Goodbye Logan, we will miss you.
Dave White
TRINUS
stress-free IT