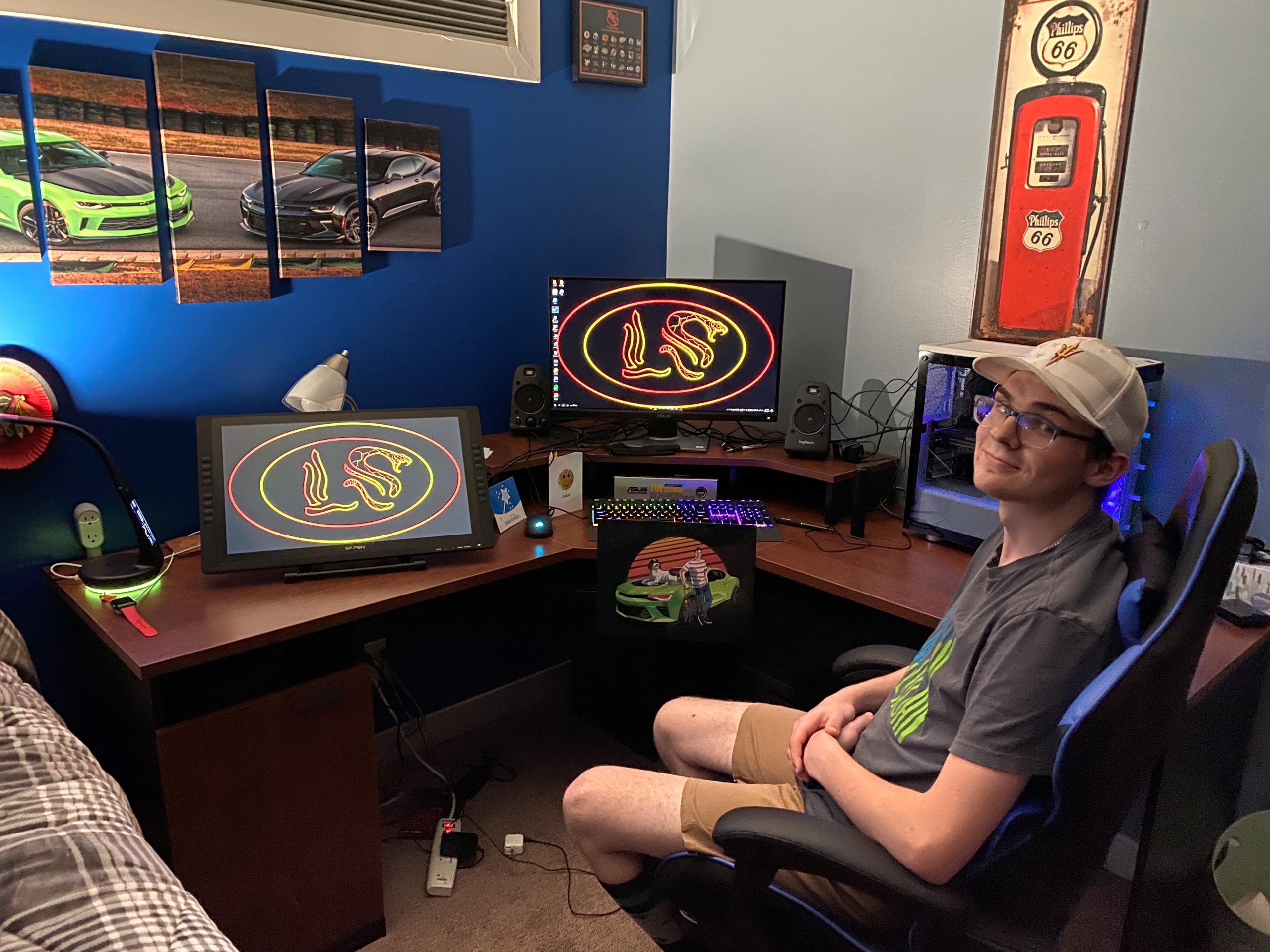 Blog /

Some Happy News Amidst the Chaos: TRINUS Helps Make-A-Wish Recipient's Dream Wish Come True
You may recall that back in January 2019, and after being approached by Make-A-Wish Northern Alberta, TRINUS was privileged to sponsor the Dream Wish of a 17-year-old youth named Logan, who wanted to own a state-of-the-art gaming computer. We were able to build, prepare and deliver the dream set to him.
We were once again honoured this year to be part of a special event in the life of another 17-year-old Dream Wish Recipient, whose name is also Logan! Same age and same name… what are the odds?
TRINUS and Make-A-Wish Northern Alberta worked together to grant Logan his Dream Wish to own the ultimate Graphic Design & Digital Arts Computer. We were blessed to contribute our share in making it all come true and being a part of this significant chapter in his life.
Logan is an outgoing 17-year-old youth who is passionate about sports, video games and graphic design. He loves his dog Daisy, his family, and is a big fan of Chevy Camaros. He is also fighting a brain tumour.
TRINUS' Director of Operations & Business Development, Kevin White, who 24 years ago was a Make-A-Wish Dream Wish Beneficiary himself, chose the various components, assembled and tested the gear.
Due to COVID-19 restrictions, Make-A-Wish Northern Alberta's Aissa Briones arranged delivery of the 5 boxes containing all the machinery, to Logan's family residence in Red Deer.
On Friday, July 31st, we zoomed-in for Logan's Wish Day, as we watched him unpack the computer. It was a very special moment that we documented in the "Logan's Wish" video below, which was produced by SAVIAN, our Digital Media Consultants and website Designers.
Some of Logan's favourite things include seafood, burgers, chips, strudel, and cookies. He is also into Marvel, DC, Mystery, Crime & Police shows, Dwayne Johnson, Basketball, Hockey, Football, and Coke.
Logan is currently taking Graphic Arts through High School and will soon be working on his first Graphic Design project, that was commissioned by SAVIAN; a TRINUS Marketing-related task.
As many of you know, Make-A-Wish grants Dream Wishes to children affected with serious disorders, who are receiving treatment. Their stories are often heart-wrenching. Make-A-Wish are very diligent in discovering these young patients' true desires, and continually go out of their way to grant their wishes.
Chris Penn
Marketing Manager
TRINUS Technologies
stress-free IT