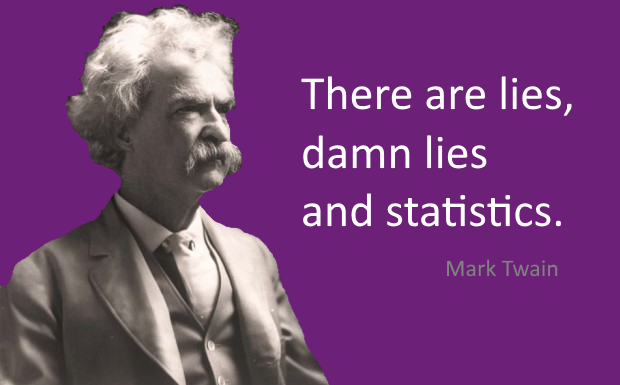 Blog /

Lies, Damn Lies, and Statistics – Alarming Statistics on Cyber Attacks Seems like Bad News for Canadians…
I took a statistics course in University many years ago. One of the many exercises we did was to take a series of data points and manipulate it to get different results. Using various approaches to compiling and analyzing data points, results could be easily skewed to support a PRO or AGAINST position on just about any topic related to the information. Of course, politicians are masters at this game; there is always some study whose results support the latest item on their political agenda. As we're in the throes of a provincial election campaign – and a federal election is on the horizon – we're inundated with all sorts of numbers and much of it doesn't make a lot of sense, regardless of your supporting position. No wonder Mark Twain penned the title of this article.
We made a short presentation to the Local Government Administration Association (LGAA) conference in Red Deer this week. Our topic was Cyber Security and during our preparation, we came across some recent numbers about the rise of Cyber Security Attacks across Canada, North America, and the world. It should come as no surprise that Cyber Attacks are on the rise, but even we were surprised at some of the numbers:
47 municipalities in North America were reportedly hit with a Cyber Attack. Many go unreported.
One in five Canadian businesses experienced a Cyber Attack.
Per-capita, Canada became the 3rd highest country affected by Cyber Attacks – up 103% in 2018, when compared to 2017.
Globally, there were 10.5 BILLION Cyber Attacks in 2018 – and 3.9 TRILLION intrusion attempts.
PDF and Word file attachments were the most prevalent attack vectors.
Alarming, Scary, Depressing – pick your reaction; it doesn't matter. There is no positive spin to put on these statistics. One fact remains: no one is immune to Cyber Security Threats. The REAL risk is ignoring these threats and falling prey to an attack.
Central to our message were three categories of counter-measures that governments, businesses and individuals should be practicing:
Hardware and Monitoring, including deploying an Enterprise-Class Firewall, using best-of-class Anti-Virus, and employing Active Security Monitoring.
Backups and Disaster Recovery, including effective Local, Offsite & Cloud Backups, Action Plans to mitigate the effects of an attack, and Backup and Disaster Policies that are followed.
User Education and Policies, including keeping up-to-date, Preventative measures in the event of an attack, and understandable Cyber Security Policies.
For anyone contemplating the fallout from a Cyber Attack, here are three results that are guaranteed to be part of the misery:
Day to Day Operations will come to a Halt, including Email, payroll, banking, and all transactions that use an IT system (meaning all of them.)
Your Reputation will be tarnished, including a loss of confidence in ALL of your actions, possible investigation by authorities, and ramifications from loss of private information.
There will ALWAYS be a Financial Loss, including lost productivity, ransom payment, IT recovery services, new IT hardware, and lawsuits.
At TRINUS, we've been recommending and employing these Cyber Security counter-measures since 2014. But we still encounter clients who ignore the threats and live a high-risk IT lifestyle. I can tell you that one attendee at the conference approached us afterwards with a short but sad story of how they fell victim to a ransomware attack last December. Of course, they were completely on-board with our message. We wish they hadn't needed that real-world wake-up call.
So, what's it going to take to ensure you don't become part of the 2019 Cyber Security statistics? Are you going to pull a Mark Twain; putting the statistics down to a Damn Lie – and carry on without adequate protection? Given the available counter-measures and education available, there's no reason to be caught in a Cyber Attack.
If you need more information on effective Cyber Protection, please contact me or your Account Manager for stress-free Cyber Security.
Thanks!
Dave White 
TRINUS
stress-free IT
trinustech.com