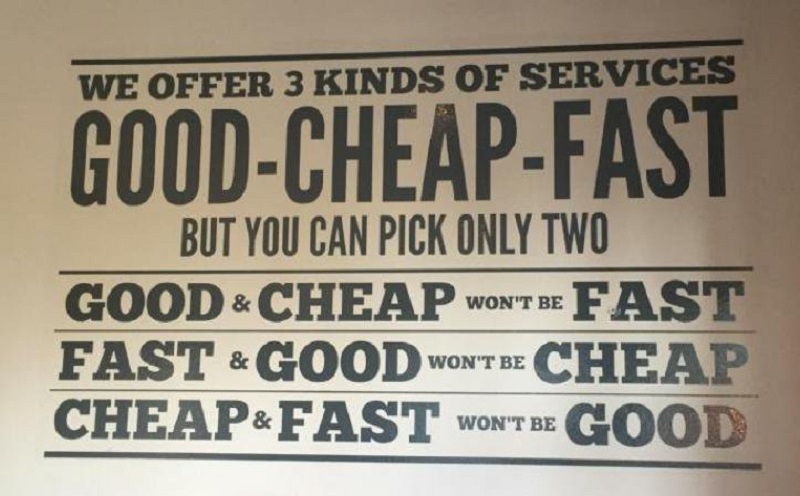 Blog /

GOOD, CHEAP, FAST: Pick 2 – Pandemic and Poor Economy Put Pressure on IT Spending (Part 1)
Good, Cheap, Fast: Pick Two is a time honoured business guideline describing the tension between quality, price, and delivery. It can be applied to just about anything. In 2020, and the beginning of 2021, we've noticed several clients under increasing pressure to provide the absolute best value in IT service for their users, while trying to cut budgets. It's not always a successful outcome. Over the next 3 weeks, I'd like to bring some perspective on all 3 elements and how to make the best choices. This week, Good.
There are 2 product type generalizations which are common to the IT industry, often described as Consumer-grade and Business-class.
As the name implies, Consumer-grade IT products are suitable for casual use by home users and very small (1 or 2 person) businesses. The products are often designed with limited quality, capacity, and performance, as the manufacturers know they will see limited use and most users are willing to sacrifice speed and reliability for a lower cost. These goods have a lifespan of 2 to 3 years, after which many have failed outright, or no longer have sufficient performance to keep up with ever-expanding applications and data storage. They also have little or no built-in Cyber Security countermeasures and very limited 1 year warranties. Typical units in this category are purchased from big-box retailers or online discounters and can span the whole gamut of IT product types: laptops, desktops, monitors, printers, network equipment, routers, firewalls, and even some small servers.
Where managers get confused is when they purchase a consumer-grade IT product, and it seems to work OK when they first deploy it in their organization. However, after 3 years, they've long forgotten their consumer-grade choice as users become frustrated with the poor performance and escalating support required to keep the unit running. The missing component in their business decision is not counting the lost productivity due to poor performance, downtime, lost data, and poor staff satisfaction.
The airline industry coined the term Business-class many years ago in an effort to attract more business customers into their first-class section. For most of us who travel in the back of the airplane, business-class conjures up visions of elite executives sipping fine wines and sampling hot food on china plates, while reclining in overstuffed wide seats. It seems extravagant. But the idea has merit; if a corporate executive arrives refreshed and ready to do their best in a critical meeting, the cost is well worth it.
Sadly, the IT industry is saddled with the image that Business-class IT products are an extravagance and should be reserved for those residing in the executive suite. The truth is completely opposite. Putting high quality, fast, and robust IT products in the hands of all users results in vastly increased productivity and Information Security. Multiple books and articles testify to the truth of this reality – and don't need to be repeated here. But it has been proven time and again with many of our clients.
When was the last time you heard a staff member grumble about a slow or erratic computer? Maybe today, certainly this week. Here is a simple example of how this can impact your organization:
Reduced Efficiency:
Lost productivity per user:  5 minutes/day
Average workdays/year:  252
Total lost productivity per user:  1260 minutes (21 hours)
So, at only 5 minutes/day in lost productivity (very optimistic), it COSTS an employer 21 employment time hours – or half-a-person/week each year. If you have 25 staff members, it equates to over 13 weeks of lost productivity annually, or a quarter–staff position.
Staff morale is greatly affected when they don't have the proper tools, and more than at any other time in recent memory, IT resources form a vital part of a staff member's tool kit. One thing the Pandemic has taught us is the need for Good computing resources, no matter if the staff member is located in the regular office or at home.
Finally, let's examine what Good means, when it comes to proper IT Management Services. As IT systems become more complex and far-reaching – and organizations rely on them to store more sensitive information, high quality IT support not only saves valuable time and money; it can also save your organization. Gone are the days of small IT firms which – just like a plumber – provided service when you called about your broken computer or network.
Cloud storage, Digital Transformation, remote locations, staff working from home, phone system integration, complex websites, Smartphone access to corporate data, and Cyber Security countermeasures – all form part of the modern IT infrastructure for organizations from 5 users and up.
This makes professional IT Management Services with advice on Business Processes a mandatory component of any business plan. If you don't think so, just look at the average application for Cyber Business Insurance. It spans several pages of technical and business-process details; they want to know you have solid IT Management resources to assist you with Disaster Recovery from a cyber threat. Banks are starting to follow this path when processing loan applications: No IT Management plan – No loan. And then there are Privacy regulations – FOIP, PIPEDA, and PIA for example – that want to ensure you're taking Digital Information Security seriously.
So, all-encompassing Good IT is really about business stability and growth, and how your IT provider is an essential business partner in your success. Next week, we'll examine the Fast part of our IT business tension triangle.
In the meantime, if you'd like more information about Good IT for your firm – or want to book an appointment to chat about it, please contact me or your TRINUS Account Manager.
Thanks.
Dave White
TRINUS
stress-free IT