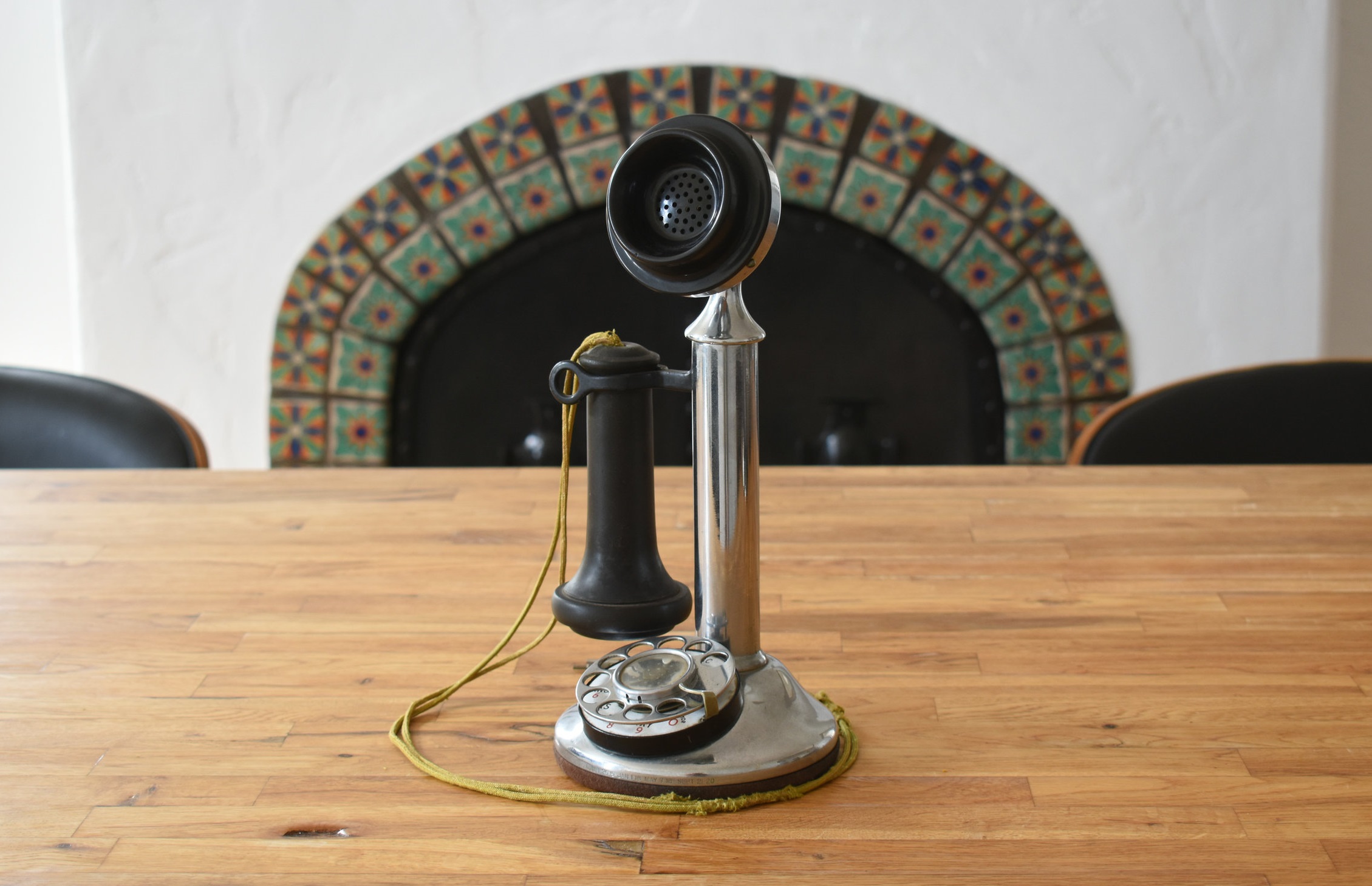 Blog /

What's That THING on my Desk? – New Phone Technology and Devices Change How We Use Voice Communications.
We were watching a series from PBS the other night that chronicles the history of Country Music. While it's not my favourite genre, the 8-part series is a fascinating look at life in the U.S., starting in the early 20th century. I had a special interest in the early radio sets which people used to listen to the initial broadcasts on, but they also had great shots of early phone systems and handsets.
Today, most people would consider this technology hopelessly primitive with rotary dials and hand cranks, but less than 100 years ago, it was modern and state-of-the-art. Most folks didn't have ready access to a phone; they'd have to travel to a nearby store or rich neighbour, to use one. If you're looking for a modern equivalent, think of an electric vehicle (Tesla?) with some advanced self-driving features.
Back to the phone. Most desktop office phones look the same as they did 50 years ago – and for a good reason. There is only so much innovation you can build into a device that you still need to hold close to your mouth and ear. Digital displays, push buttons, speaker phone – that's about the state-of-the-art-for-business phones.
But like most things, the-state-of-the-business phone is changing. Naturally, it's being driven by the digitization and miniaturization of current electronics, but new advances in microphone and camera design are also impacting the old handset. Another driver is Microsoft's entry into the phone-provider arena.
It's now possible to replace the traditional business phone system with a completely Cloud-hosted structure and using a wide variety of handset devices: Multi-lines, transfers, voice mail, video-conferencing, and a host of new features will all be possible. Soon to be gone are the bulky PBX controllers and dedicated phone-wiring of old-school business phones.
Microsoft are leading the charge when it comes to integrated and managed phone systems. As part of the Teams Application in Office 365, all existing business phone lines can be converted to an integrated Call Centre. Even though it's managed through the Teams software interface, users can have a standard handset with normal "buttons" for calling features – just like they do now. But users can also utilize any computer-connected device for calls: Bluetooth headsets, wired headphones and MICs, or specialty devices. Add a camera and you have a video phone.
While at a Lenovo product briefing last month, they demonstrated two devices that caught my eye. One was the ThinkPad X1 Bluetooth set of headphones that have noise-cancelling capability and six integrated microphones. Small, yet very comfortable, they function as a fantastic set of headphones for music, YouTube videos, movies, or phone use.
The other device was a 360-degree camera-speaker. Perfect for video-conferencing in a small boardroom or office, the video camera provided a 360-degree view of the room, while the built-in noise-cancelling MICs and enhanced speakers provided great audio. Integrated buttons control the functions and it plugs into a standard laptop or computer.
Both devices are competitively-priced and comparable to standard phone handsets or dedicated phone headsets.
Receptionists who manage several lines at once with transfer and call routing, can also enjoy a traditional multi-line handset or use the Teams computer interface. Voicemail, auto-attendant and conference-calling are standard features.
One of the unique innovations is the Teams Application on Smartphones. Calls can be made or received from the corporate phone system through the Office 365 Teams APP on the phone. Thus, even though you are using your cell phone, the call is being made through the Internet to the Teams APP, and then to the corporate "phone line." Of course, all the other Teams functionalities are on the phone.
All of this makes for a good phone system, but the real advantage comes when it's integrated with the other Teams functions: Activity planner, Chat (messaging), Calendar, and File Sharing. This enhances workflow and productivity, by combining common office functions into a single APP. It has the potential to replace most Email traffic and Outlook functions in an organization.
This is just one aspect of the Office Digital Transformation. It's a term you can expect to see a lot more of. Over the coming months, we will be highlighting the Transformation at the numerous Trade Shows and conventions we attend. Stay tuned for more!
Dave White
TRINUS
stress-free IT