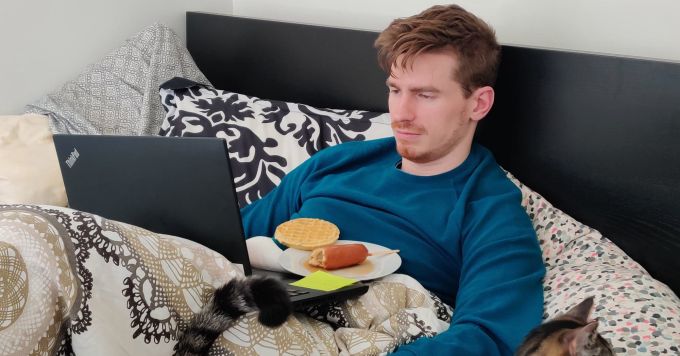 Blog /

No Place Like (Working From) Home Video Series – Part 5: A Manager's Perspective
I spent this morning's video meeting counting Ryan's Star Wars' dolls. I stand corrected, "COLLECTABLE ACTION FIGURES." We are used to seeing only the professional side of our co-workers. COVID-19 shines a spotlight on the personal side of our associates, as we connect from the Safety & Privacy of our homes.
This means witnessing casual attire, scruffy hair, neglected surroundings, and disarrayed personal effects in video backgrounds, all the while testing our professionalism, as we fight the urge to comment. Not only are we immersing ourselves into each other's personal spaces, but we are also experiencing frustrations with technical difficulties. As an example, subpar Internet connections can spoil a meeting's productivity, between dropped video and watching as a co-worker's audio does not match their mouth's movements – like one of those terribly-downloaded movies – but unfortunately, you can't turn this movie off! We must be respectful of others' personal atmospheres, as well as gracious and patient with technical challenges.
In his educational video below, TRINUS Account Management and Marketing Director Dave White, shares A Manager's Perspective of Adjustment to a Remotely Working-From-Home scenario. Through unique insight and tips that may have been forgotten in the scramble to move your employees to a Work-From-Home space, Dave encourages you to create a Work-From-Home Policy for your workers.
If you are not sure where to start or what to include in your Policy, please connect with a TRINUS Account Manager for guidance.
Thanks!
Misty Jespersen
Business Consultant
TRINUS
stress-free IT