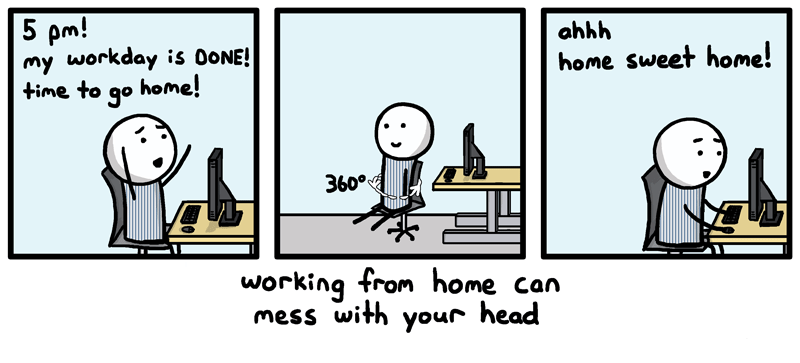 Blog /

Netflix Beckons: A Few Thoughts about Working from Home
We've arrived!  After more than three months, I have just moved into our newly-renovated offices.  At the beginning of May we started our Renovation project and – as my office was gutted to make way for the new layout, I was forced to work from my home office.  To some of you, this might sound like a holiday; an excuse to raid the fridge every time you walked by – or binge – watch Netflix.
I've worked from home occasionally, but usually no more than a day or two at a time; rarely more than a week.  And while I fancy myself as fairly disciplined, this required an adjustment.  We're a Technology company, but I'll focus on a few Business distractions and what I've learned from them, and avoid descriptions of my poor dress code or occasional meandering around the house, in search of conversation.
For all of our Technology and Connectivity – and we have more than most – it was hard not to feel disconnected; if not downright isolated.  We relied on Email, phone calls and texting – all the things we use in the office daily, but the face-to-face interaction was greatly reduced.  To combat it, I scheduled regular meetings with Staff members and the agenda was simply to "stay connected", but it wasn't enough.  During the day, there were hundreds of observations and casual interactions that were missing, and so I didn't feel in the loop with Staff or the background noise of TRINUS.
Lesson #1: Casual office interactions – while subtle to the point of being invisible – are vital to provide the context we use to make good Business Decisions.
We also lost our meeting area at TRINUS, as it too fell victim to the demolition work.  In the old facility, it wasn't much – just a large boardroom table in the middle of a common area.  Privacy was next to impossible and disruptions were constant.  I used to think it was seldom used – until we lost it.  As a backstop, we used my dining room table.  I live but a few minutes from the office, so just before a scheduled meeting time, Staff members would drive to my place for a meeting.  I'd have to spruce up my wardrobe and my wife would make sure the place was tidy.  At first, it was a novelty, then it was an annoyance.  Surprisingly, even though I only had to walk from one room to another, preparations and waiting for Colleagues to arrive made the process very inefficient.  And I wasn't doing the driving.
Lesson #2: Common meeting areas – or rooms – while seemingly a waste of productive space – are incredibly efficient means of facilitating dozens of daily meetings for just about Everyone.  And they don't have to be private or sophisticated to be effective.
I found myself staring at the wall clock more often than usual, while working from home; I was definitely more conscious of time, even though my home office was open all the time.  This seemed counter-intuitive – as apart from receiving the odd transferred phone call, my time was truly my own.  Yet, I'm back in my new office and time seems to be flying by.  By pure coincidence, I've started reading a book called Hyper-Focus, by Chris Bailey.  He delves into the Psychology of our ability to focus and maintain our attention on a single important task.  Within a few pages, I had the reason for my clock-watching.  The surroundings and environment at home were purpose-built to provide a comfortable and relaxing home atmosphere.  They provided compelling distractions that robbed my ability to focus on a single (Business) task.  And it's when you can be single-minded and focus intently, that time flies by.  While the office has it's own distractions, they have a Business slant that's easy to dismiss or block out.
Lesson #3: Working from home is too comfortable – and while the surroundings are perfect for living life at home – they are too familiar to be ignored, when you're trying to work.
Well, the new TRINUS office is open – and it's great.  There's lots of space, a proper Data Center loaded with servers, and several meeting rooms.  I have even hung the pictures in my office.  Business life is getting back to normal.
Oh, and the new kitchen had a box of cookies in it this morning.  Now that's a Business Benefit!
If you would like more information on our new Data Centre and how Cloud Hosting your applications or backups can help make your IT stress-free, please contact me or your Account Manager.
Thanks!
Dave White 
TRINUS
stress-free IT
trinustech.com