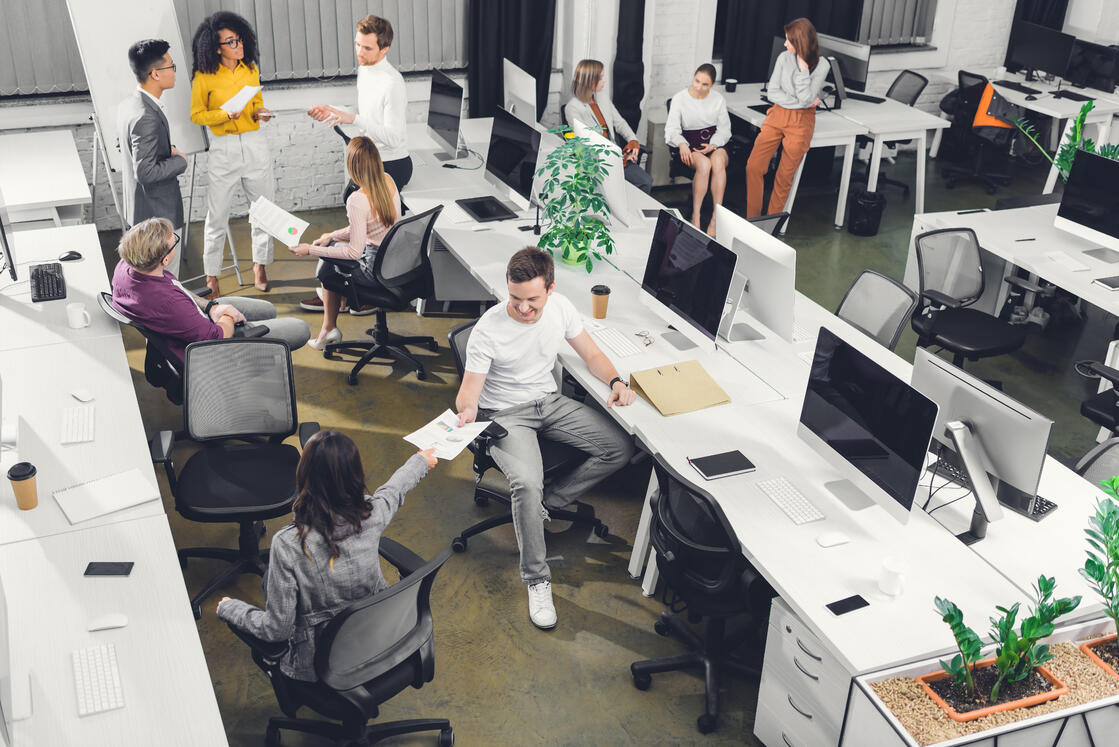 Blog /

Is your IT ready for employees to return?
Now is the time to prepare your offices for the new work world.
With COVID-19 vaccines finally being deployed across the country, there's hope for a return to normalcy, or at least something like it, over the coming months. Working remotely may be a useful tool for extreme situations and occasional work-from-home days, but there's not really a perfect replacement for face-to-face conversation and teammates being able to collaborate directly.
That's why now, while our most vulnerable are queuing up to get vaccinated and most of the workforce is still working from home, is a good time to evaluate your office's IT situation. To make sure your offices are ready for your employees return, here are three things you should consider in the weeks and months leading up to the expected lifting of public health orders.
1) Internet services
First up, and arguably the most important for modern connected workforces, is your internet access situation. Were you hitting speed limits prior to the pandemic? Will your network allow for enough devices to connect? These are two of the most important questions to (re)consider after a year away from full capacity at the office. While bringing new services into the building is prohibitively expensive, you would do well to run regular speed checks and make sure they're meeting minimum thresholds. You can set your own standards, but we suggest:
– 25 mbps downloads and 5 mbps uploads for offices with less than 10 users,
– 50 mbps down and 10 up for offices with 11-25 users,
– 100 mbps down and 25 mbps up for offices with 25-50 users,
– and 200 mbps down and 50 mbps up for offices with over 50 users.
If you're ISP (Internet Service Provider) isn't meeting these minimums, you might want to consider a new ISP before bringing employees back. Just make sure you get a speed guarantee in writing, as many ISPs offer speeds "up to" however many mbps they're offering. Just because your ISP offers speeds "up to" 50 mbps doesn't mean that's actually what you'll get; your actual effective speeds are likely going to be substantially lower.
Also, like IT, many internet providers offer managed internet services. They usually cost a little more, but you also get superior reliability and faster troubleshooting for the added cost, which is great if your business's revenue is heavily internet dependent. If your systems are heavily cloud-based, you want to look for Internet capability that is the same speed up and down. Normally, fiberoptic internet is the best choice here.
2) Updated software
Having most of your workforce logging in from home has left fleets of office computers sitting idle. Hopefully by now you've got some kind of cloud-sharing capability so workers have been able to access everything they need to work from home, but what happens when they come back to the office only to discover their work PC needs a bunch of updates applied to it? You can lose hours upon hours of productivity to a single computer that hasn't been updated in a year. Now multiply that loss by however many computers you may have in your office. The costs really start to add up, especially when you add in the potential security liabilities. After all, those unapplied updates usually include critical security patches that you might not have received.
The same can be said for servers and critical networking equipment, such as firewalls and WiFi access points. They could be several updates behind in their regular maintenance schedule if your IT provider has been focused on keeping the remote team working from home.
So do yourself a favour and make sure your computers and networking infrastructure are up-to-date prior to your workers returning. Smaller businesses can probably get away with doing this internally, possibly even between core work tasks, but larger businesses will likely need to make some sort of investment here (assuming they don't already have an IT department to handle these situations). Outsourcing your IT requirements to 3rd party is a great way of getting your office computers back up to snuff without having to take your attention away from other work.
3) Plan for the future
Plan, plan, plan! Sometimes it feels like that's all the experts ever tell us to do. Plan for a security breach, plan for social engineering attacks, plan for terrorist attacks and natural disasters and now, plan for pandemics! It seems like you need to "plan" for almost anything these days.
But the reason you hear this same advice again and again is because it works. Having a plan in place for when your employees return will help ensure a much smoother transition from remote work back to on-site. The current situation makes it difficult to create a precise plan of action for every scenario, but now is the time for you to reconsider your office occupancy levels and requirements. Ask yourself how your meeting rooms are being utilized, and how they can be made safer. Will you maintain current hygiene standards when workers return, or will you have an updated policy?
You may also take the time to plan for long-term, organizational changes. How much has your office footprint changed over the past year, and will it return to normal? Does it even need to? Corporate real estate continues to undergo unprecedented changes in occupancy levels as a result of the COVID pandemic, and it has allowed many employers to significantly reduce their office requirements. After all, allowing some previous office-workers to transition to permanent remote positions might allow you to find leaner offices and permanent savings in rental costs. It can also impact the type of IT systems you need in the future to support a hybrid in-office and work-from-home environment.
With more and more vaccines finding federal approval, and many of those being effective against both COVID-19 and its variants, there's a bright light at the end of this long pandemic tunnel. Don't let a rocky reboot of your office workflows get in the way, and take the time to make sure your IT and your return to work strategies are ready. By getting ready now, and planning for the future, you can turn this crisis into an opportunity to build a leaner, but more importantly safer, workplace for some of your most valuable assets, your employees.
For help preparing your offices and IT to welcome back your employees, or for more information on how managed IT services can help you, contact your TRINUS account manager or drop us a line!
Sincerely,
The TRINUS Team